Meere's Pork Products is a family business offering a unique range of traditional sausages, black and white pudding, all produced using recipes handed down through the generations from 'Granny Meere'. So let's find out some more…
Barry, could you tell us a little about the history of the business and when you first became involved?
The business was started in 1975 by two brothers, Oliver and Patrick Meere. Oliver and Patrick opened the first pork and bacon shop in Ennis. After a short time Patrick decided to move the production of sausages and puddings to a purpose built unit. This is where the products are still made today and still by Patrick.
Patrick's daughter, Orlaigh, has been involved in the business since 2005 and I joined the business in 2006.
As a family business, do you each have defined roles or do you get involved in all aspects of the business?
Whilst we all have specific roles within the business, be it production, sales, accounts or promoting the business at shows or online, we all help each other. It wouldn't work otherwise.
As with many local producers of Black (& White) Pudding, you have your traditional family recipe. Is there any more you could tell us about what differentiates a Meere's Pudding from those of your peers?
Our pudding is of high pork content and has a great balance of spices. Patrick also likes to stick to his mother's recipe of how the puddings should look, taste and also the texture.
Do you use local produce (ingredients) and how important is this to maintaining the quality of your product?
We use Irish pork and use a local company for our ingredients. The combination is essential. The quality and high standards of our products is very important to us as a company. The whole reason we do markets and in store tastings is to tell our story, to our customers new and existing.
We believe you first entered your puddings into competition a couple of years ago. What prompted to you to enter after so many years?
That's right. It took us 40 years to enter a competition! In 2014 I was approached by Pat Haugh (Fresh Food Manager) of Supervalu Ennistymon. He asked if we would be interested in a new scheme called 'Food Academy'. I said yes and Orlaigh completed the course in early 2015.

Barry & Orlaigh with their 'Small Producer Of The Year' Award at the Irish Quality Food Awards 2017

Both our Black and White Square made the finals of the Irish Quality Food Awards and also Blas na hEirann in 2015. We really didn't stand a chance (we all thought). In both competitions we were up against the companies and products you would be expected to be up against, the big brand names.Part of the process was to tell our story through the packaging and with great help from all people involved we came up with our new packaging, whilst keeping our unique 'square pudding'. We started to really promote the pudding through tastings in Supervalu stores. The results and comments from these customers helped us enter our first ever competition.

At the Irish Quality Food Awards we won best black pudding, best white pudding and also received a 'Gold Q for Small Producer'. Truly amazing. In Dingle for the Blas na hEirann Awards we received Silver for our black pudding. Again truly amazing.
And what impact has the awards success you have earned had on the business?
It's given us media coverage that a small producer just can't afford. It created business and sales in new and exciting shops, stores and restaurants. Also when you tell someone your product is award winning, they look at you differently and taste your products in a different way.
We've been very interested recently in the debate regarding the use of fresh or re-hydrated blood in the production of black pudding. Do you produce a fresh blood black pudding?
The company used fresh blood until 2003 when Patrick stopped making puddings due to new regulations that were introduced in Ireland. It wasn't until Orlaigh decided to join the business that an extension to the production plant was built, which once approved, allowed us to start making puddings again.

In Ireland as a producer we would need a special licence to handle fresh blood. I believe that there are only 4 or 5 producers that hold this licence in Ireland.
Earlier you spoke of the local food markets. Which are the regular ones you take a stall and what do you enjoy most about them?
In May this year we got involved in the new market area in Ennis. Its opposite Meere's Butchers, which is now run by Oliver Meere's son Noel Meere. Its been great for us because we wanted to try something different. So I came up with two 'Gourmet Sausage Roll' recipes; Meere's Black Pudding & Caramelised Onion and Chorizo & Smoked Paprika. We only sell them at the market and in Meere's Butchers. The response was that good that I entered them into Blas na hEirann 2017. To my surprise they won Gold and Silver, and we also won Best in Market. Absolutely delighted with their success.
If individuals want to try any of your product range, where else can they buy it from?
You can only buy our 'Gourmet Sausage Rolls' at Meere's Butchers or the Ennis market.

You can find sausages and puddings in County Clare at Dunnes Stores, Supervalu, Tesco, Shannon Airport and all independent stores.
Our puddings are also available in Dunnes Stores (Limerick, Galway, Dublin, Tralee, Killarney), Supervalu (Limerick, Galway, Dublin, Killarney, Cork), Tesco (Limerick), McCambridges of Galway.
And do you have any 'famous' clients, especially restaurants or chefs?
A few places we have our puddings on the menu is McCambridges, Dromoland Castle and Rowan Tree Cafe Bar in Ennis.
We were asked to make a special breakfast sausage for when Brendan Grace's daughter got married a few years ago.
Rachel Allen wrote about our products in 2016 and likes our white pudding and also presented our award for Best White Pudding at The Irish Quality Food Awards 2017.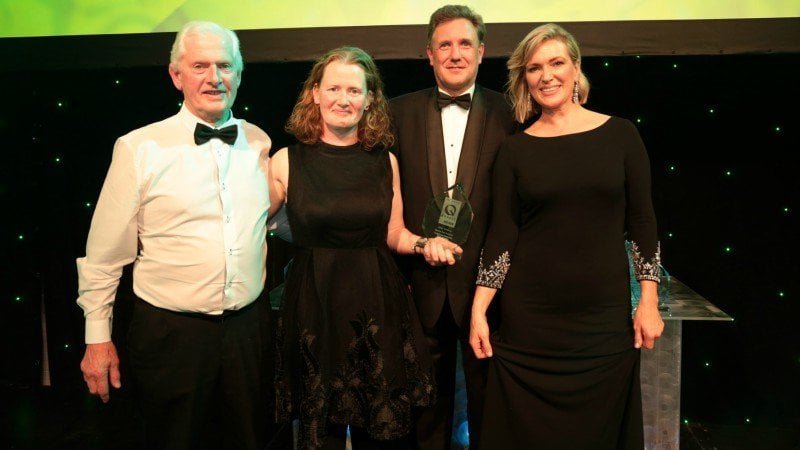 Finally, do you have a tip or favourite recipe / meal for preparing or cooking your Black Pudding?
I would have Meere's black pudding with steak or on a burger is fabulous. But my favourite is Meere's black and white pudding with poached eggs and soda bread.
Thank you to Barry!
Updated Dec17: Our competition prize accompanying the article was won by Christine in Dublin.